George Hook, broadcaster and rugby pundit has taken on one of the biggest challenges of his life. He has been in the recording studio to sing for COMBER, a special Charity he truly believes in. George has been a patron of Comber for many years and it is his sincere hope that his efforts in the studio will raise much needed funds and bring media attention to the plight of these 'forgotten' young people.

George has teamed up with Executive Producer Bill Hughes and Producers Ronan Johnston and Larry Hogan and together they have selected eleven wonderful tracks to make up this special album. Marc duets on the first track of the CD, the Leonard Choen classic "First we take Manhatten". Of the chosen songs, eight are duets with some of Ireland's best known singers including Dana in playful and flirtatious mode on Goodness Gracious Me, Brian Kennedy with a moving and poignant rendition of The Killers - Human, Jack L in powerhouse form on Mack the Knife, Emma O'Driscoll in cheeky form on These Boots Are Made For Walking and the wonderful Eleanor McEvoy, who has written a new song with Paul Brady 'Is That Love?' Also in the line up is George's rugby nemesis Brent Pope with some good-natured ribbing on You've Got A Friend In Me and soccer pundit Johnny Giles with solid support on Sixteen Tons.

George also performs as a solo artist with How Oft Do My Thoughts (The Banks), You Were Always On My Mind and he gives a stirring and breathtaking vocal on the Henry Higgins rant from My Fair Lady – A Hymn To Him.

Marc was delighted to be part of this project & indeed very worthy cause. It is now available to download from itunes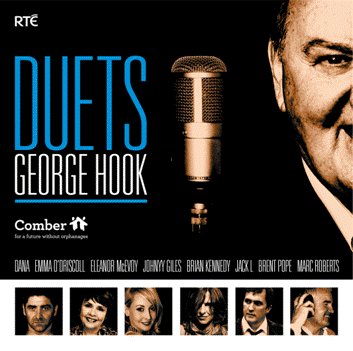 The album is released on the RTÉ label and in-store since November 13th.


Click here to take you to the itunes store